atranphoto
Mar 09
Winter Waterfront on Flickr.
Boston Skyline from Fan Pier Park
Rather than staying at home being lazy and whatnot, I drove myself to Boston, did some antique shopping, caught up with some reading at a coffee shop, and took some photos at dusk. It was much more exciting than just looking at my computer screen all day :P
Mar 06
Celtics @ Home on Flickr.
Finally went to my first Celtics game! Lots of fun and excitement despite losing to Golden State :(

Mar 04
Bordertown on Flickr.
Taken at Goldfield Ghost Town, an abandoned gold mine town located a stone's throw away from the Superstition Mountains.

Mar 02
In the Canyon's Steep on Flickr.
Here it is, the Grand Canyon. I would say the view was worth the 4 hour drive there and back from Phoenix
Feb 26
Scenic Route on Flickr.
Impressive views during our drive back from the Grand Canyon in Arizona.

I spent the weekend with my good friends in Phoenix. It was a blast!

Feb 16
X100S on Flickr.
It's been 6 months since I got the Fuji X100S and let me just say, it's amazing. I found it to be great for traveling, as you can see from my recent photos in NYC, all taken by the Fuji. It's compact, lightweight, and an all-star in low lighting. I'm glad to have this camera in my arsenal :)

Feb 09
New Yorker on Flickr.
Taken from Hudson Yards.

Feb 03
Concrete Jungle on Flickr.
Rockefeller Plaza at night.

Feb 01
Highlights - New York City January 2014: 
Wow, it's been a while since I've done an 'adventure' post. Without further adieu, I'm going to share all the photo-worthy moments I had visiting the Big Apple with my sister and cousins:
We took the MegaBus from South Station Boston in the early morning and arrived in New York a little before lunchtime. I love the 'rush' I get upon arriving at the city. We were greeted with beeping taxis, a tandem bicycle (wha?), and of course Mr. Beckham overlooking the block. So many sights to see, so little time!
Per my sister's request, we went to K-Town for lunch. Hot sizzling tofu soup for the chilly weather!
Across the street we stepped into Paris Baguette for a caffeine fix. I was surprised to find croissant donuts (or cronuts) at the bakery! A bit expensive, but it was flaky and delicious! :)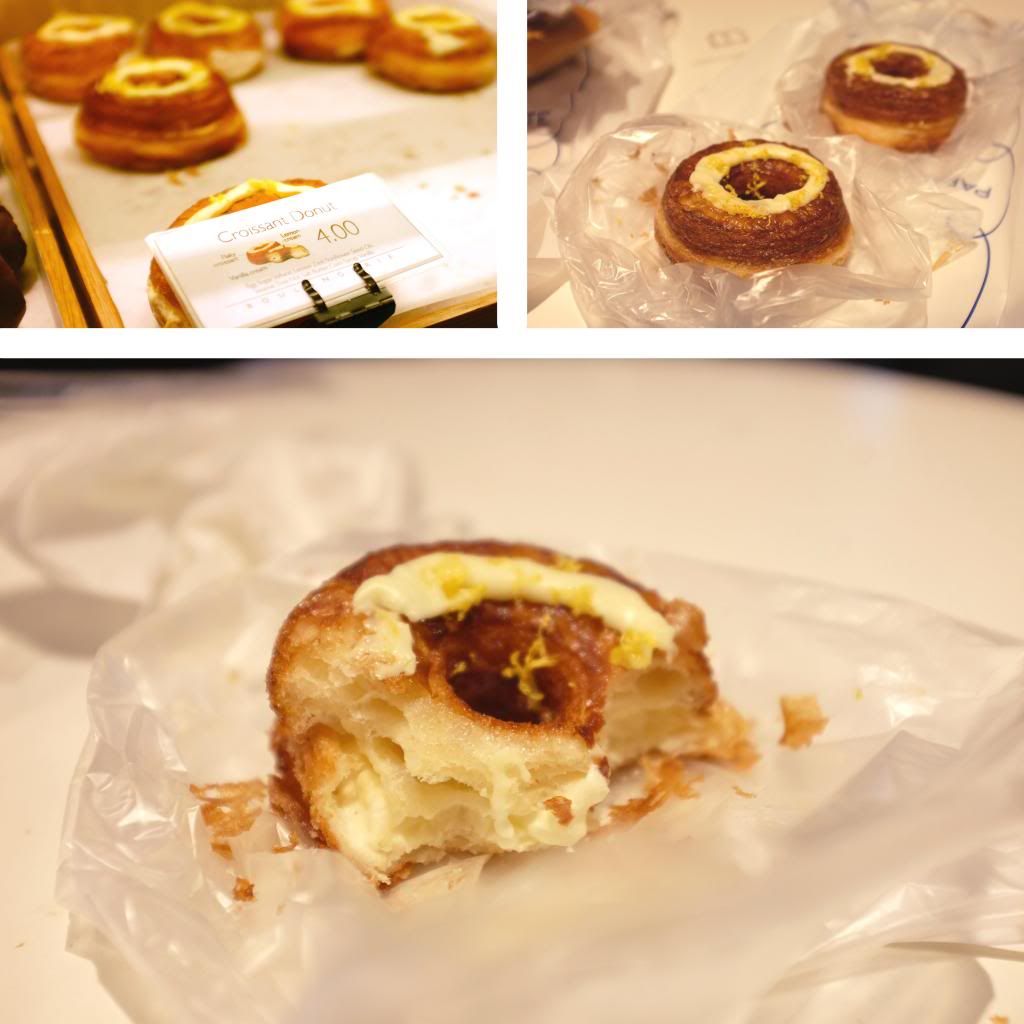 We spent a few hours in the Museum of Modern Art, but I personally could've spent all day in there! Admission was discounted to $14 for students. Good thing I had my student ID with me!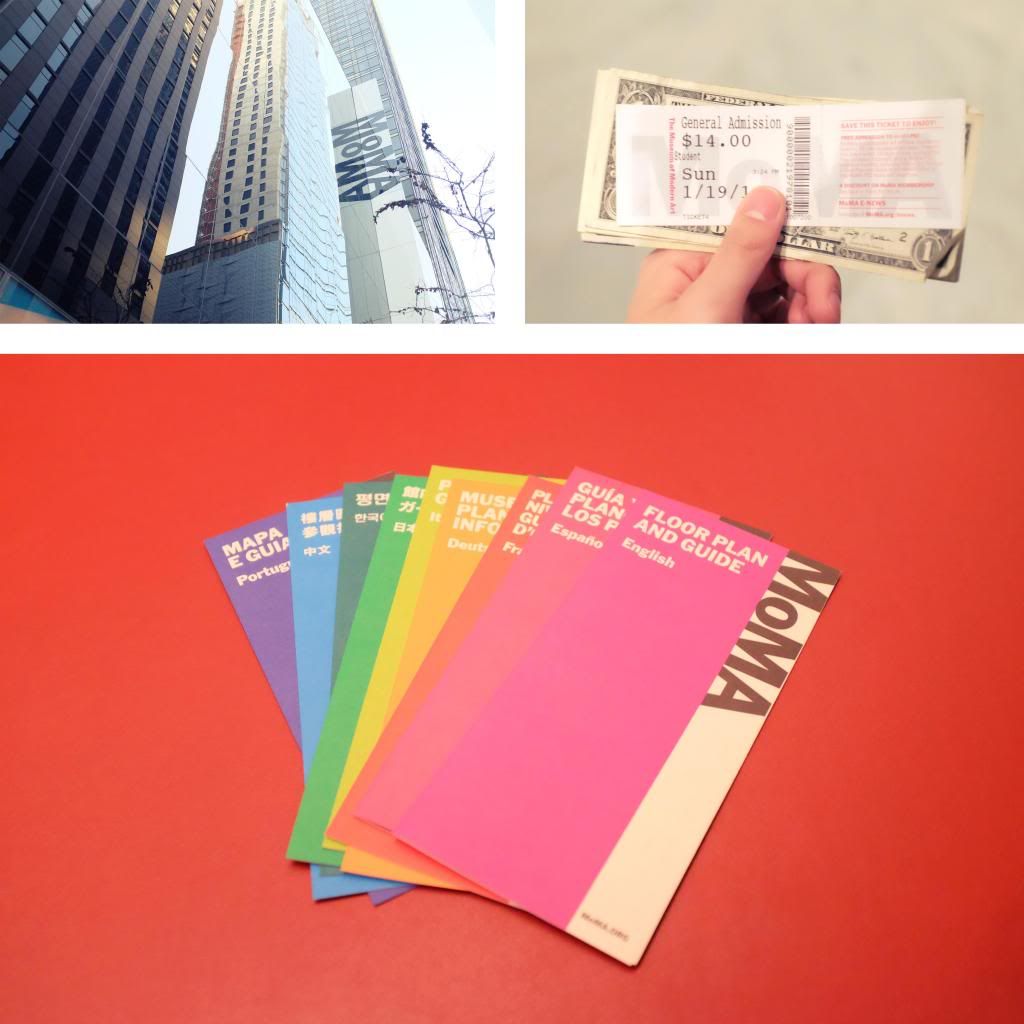 I had to collect ALL the maps! We saw several exhibits including one by Isa Genzken on the top floor.
A pixelated selfie.
In the atrium, there was a multi-screen cinema where visitors get to lay back, relax and enjoy the screenings.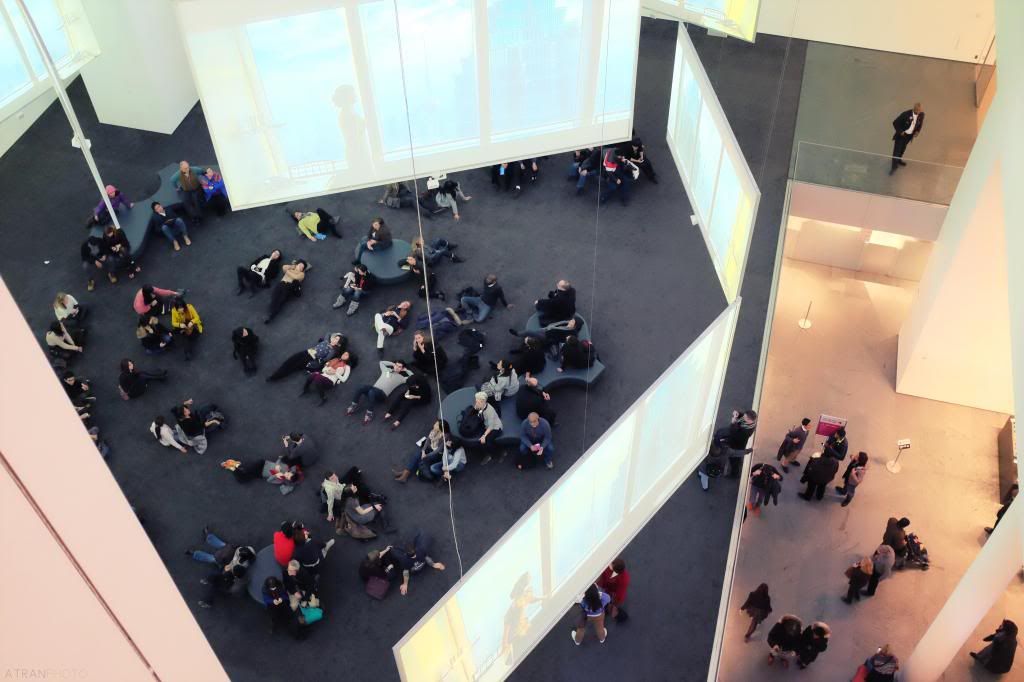 There were also some notable works of art in the museum.
After MoMA we grabbed some delicious chicken and rice from the Halal Guys and set up a family dinner in our hotel room.
We spent the rest of the night walking around Times Square and checking out the night/bar scene.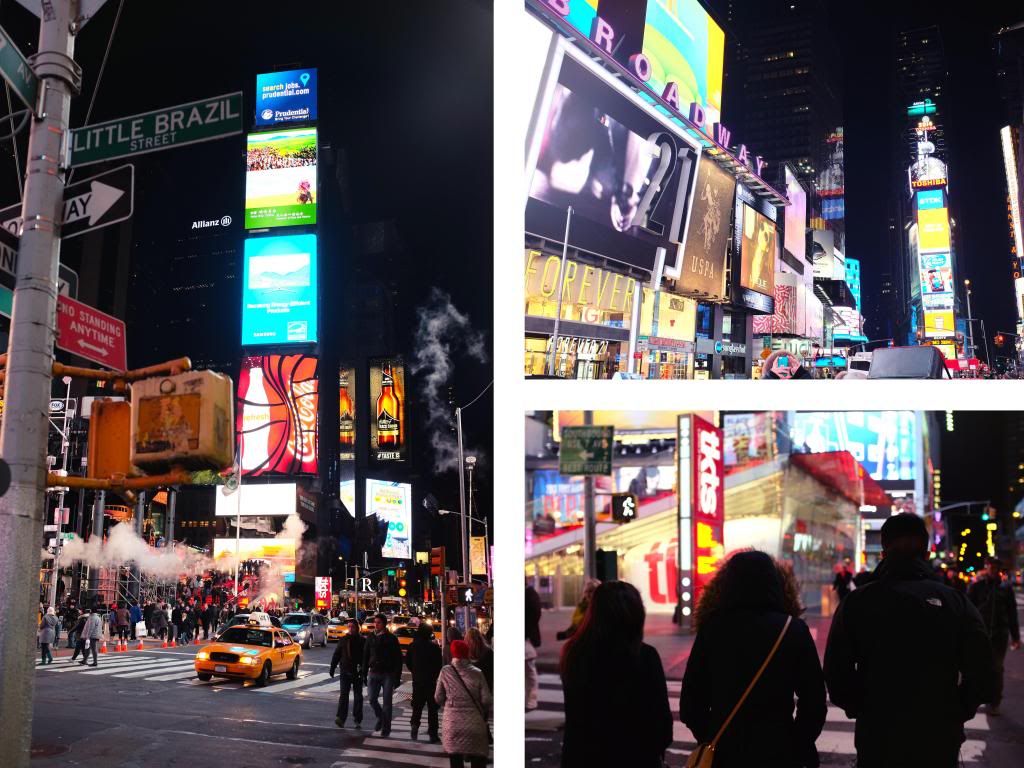 Drink it up. Also, what better way to end the night with some late night McDonalds?!
The last day was focused on getting seats to Late Night with Jimmy Fallon, so we hung out mostly in the Rockefeller Center area where the taping is.
Our tickets! I actually reserved tickets a month ago by phone, but we still had to wait in line for a while to actually have our entry guaranteed. So happy we got in!
The show was amazing! Jimmy Fallon was hilarious as always, and The Roots were awesome live! We also got to see Jessica Alba, the special guest, and a jaw-dropping live performance by Disclosure! I even got to shake Jimmy's had at the end of the show!
Our walk to the bus stop for our bus back to Boston. What a weekend!
Jan 28
Birthday Sweets on Flickr.
Brought my sister some yummy goodies from Crumbs Bake Shop for her birthday today!